I just wanted to pop in and post all the fun stuff that's going on at ScrapMatters right now. For starters, I'm hosting my first challenge! It's called the Grand Theft Layout challenge and, basically, I pick someone from the gallery who I think has awesome pages and challenge everyone to pick a page from her gallery and scraplift it. (Scraplift is where you take a layout and then use it as inspiration to create a page of your own, whether you copy the layout, or use the same color scheme or photo placement, etc.) You can check out the challenge by going here. These are the two pages I made for it....


credits



credits

I also did this page for Sya's CT


credits

and this one for a speed scrap last week


credits

There's another speed scrap tonight that I'll be participating in (as long as no more of my girls get sick - Mari was throwing up on Tue and Téa was up all night last night)....


Finally, tomorrow will be a big day at Scrap Matters. All of the designers have gotten together to create new collaboration kits....they're calling them "twice as nice" kits and they'll all be released tomorrow. I've seen these kits and they are GORGEOUS!!! So check over in the SM shop tomorrow to check out the new goodies!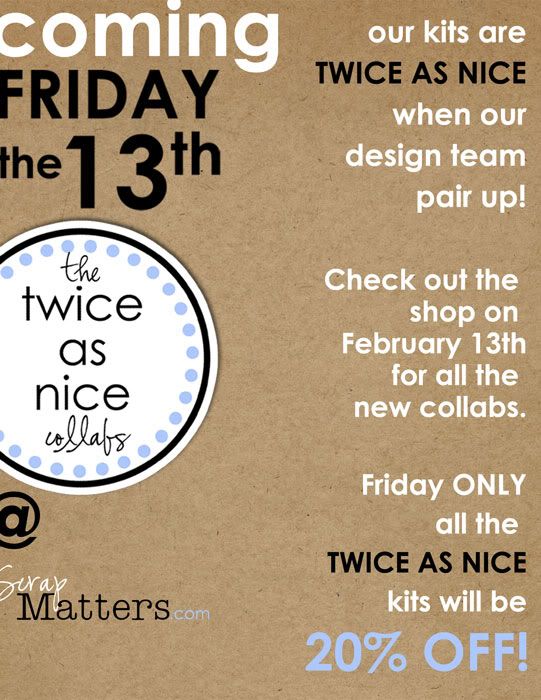 I think that's about it for now....I have a couple more pages I've done but can't post yet, as the kits haven't been released. So you'll have to wait for those. Also, I'm hosting a speed scrap later on this month, so I'll let you know more about that later. TTFN!